List Links
An easy way to view and categorize your ticket comment links
With Link List, you can easily list and categorize all the links included in your ticket comments. This means you can have a clear and organized view of all the links being shared with you, without wasting time searching through a large number of comments.
Available on the Zendesk Marketplace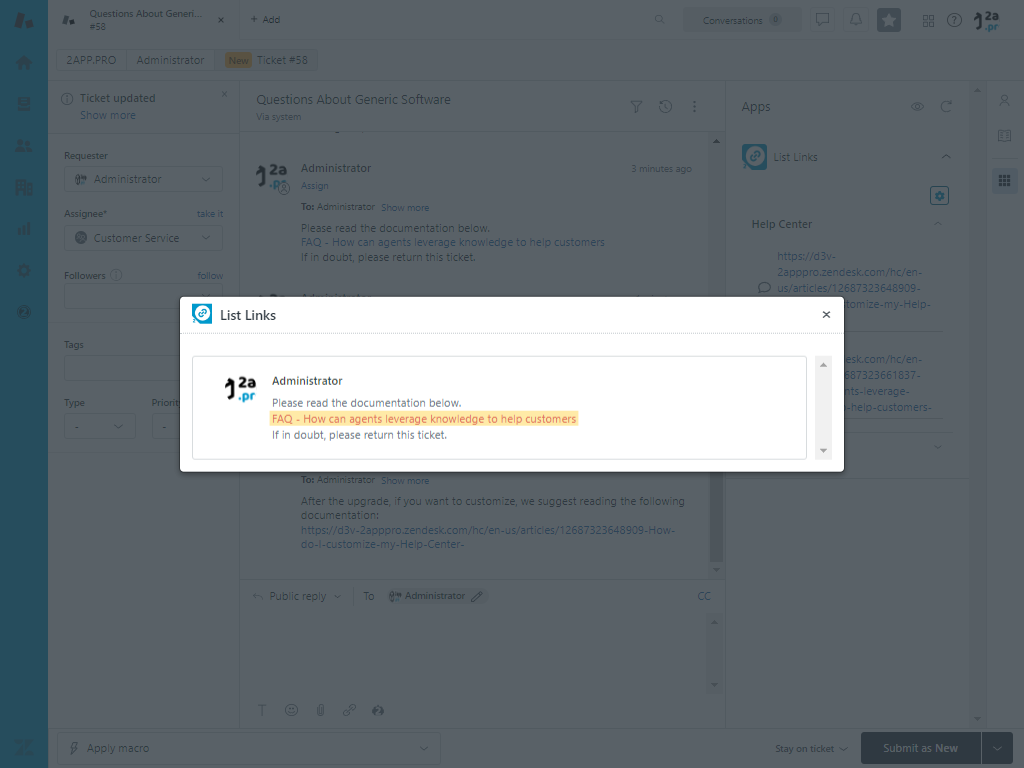 1
Time savings
Link List allows you to quickly find all links shared in your ticket comments without wasting time searching for them.
2
Improved quality of service
With a clear and organized view of links shared with you, you can respond to tickets more efficiently, providing accurate and relevant information to your customers.
3
Improved efficiency
Link List helps optimize Zendesk ticket management, allowing you to respond to tickets more quickly and  accurately.
4
Essential tool
With all these advantages, Link List is an essential tool for anyone looking to improve Zendesk ticket management. Try it out today and see how it can transform your work routine!
Release Notes
Version 1.0.0
These terms of use ("Terms") govern the use of the application ("Application") made available by [company name] ("Company") for mobile and/or computer devices. By using the Application, you agree to these Terms and agree to be bound by them. If you do not agree to these Terms, do not use the Application.
License to Use: The Company grants you a limited, non-exclusive, non-transferable, and revocable license to use the Application only for commercial purposes. You may not use the Application for purposes other than those for which it was created.
Use Restrictions: You may not reproduce, distribute, modify, create derivative works, publicly display, publicly perform, transmit, publish, or commercially exploit the Application. You may not decompile, disassemble, reverse engineer, or attempt to obtain the source code of the Application, except as expressly permitted by applicable law.
Account Information: You are responsible for maintaining the confidentiality of your account information, including username and password, and are responsible for all activities that occur under your account. You agree to immediately notify the Company of any unauthorized use of your account or any other security breach.
Privacy: Your use of the Application is subject to the Company's Privacy Policy, which describes how the Company collects, stores, and uses your personal information. By using the Application, you agree to the collection, storage, and use of your personal information in accordance with the Privacy Policy.
Intellectual Property: The Application and all related copyrights, trademarks, trade secrets, and other intellectual property rights are the exclusive property of the Company or its licensors. Nothing in these Terms grants you any right or license to use any intellectual property right of the Company or its licensors.
Limitation of Liability: The Company will not be liable for any direct, indirect, incidental, special, consequential, or punitive damages arising out of or related to the use of the Application, even if the Company has been advised of the possibility of such damages. In no event will the Company's total liability for all damages, losses, and causes of action (whether in contract, warranty, tort, or any other legal theory) exceed the amount paid by you to use the Application.
Termination: The Company may terminate your license to use the Application at any time, with or without cause, and without notice. You may terminate your license to use the Application by uninstalling the Application from your device. Upon termination, you must immediately cease all use of the Application and delete all copies of the Application from your device.
Governing Law: These Terms of Use shall be governed by and construed in accordance with the laws of the jurisdiction in which our company is registered.
Entire Agreement: These Terms, together with the EULA and Privacy Policy, constitute the entire agreement between you and the Company regarding the use of the Application and supersede all prior or contemporaneous communications and proposals, whether oral or written, between you and the Company regarding the use of the Application.
If you have any questions or concerns about these Terms of Use, please contact us at
[email protected]